Graduate Program in Physics
The Physics Department offers graduate programs leading to the M.S. and/or the Ph.D. degrees. The department boasts outstanding research programs in theoretical and experimental particle physics, astrophysics and cosmology, and condensed matter physics. We have strong programs in biophysics and materials physics (including organic pholtovoltaics). The recent NRC rankings of physics departments ranked UCSC among top Physics Departments in the U.S. (along with several other UCSC science departments), and In recent years, UCSC faculty have won numerous major awards (Onsager Prize, Raman Prize, Election to the American Academy of Arts and Sciences). The faculty numbers several leaders of the U.S. science program (former director of the FERMI satellite, Chair of the DOE's Particle Physics Prioritization Panel and leader of the ATLAS upgrade at CERN). At the same time, we provide, in an extraordinary setting, an excellent environment for graduate students. 

Entering students receive strong grounding in basic physics, as well as exposure to activeresearch areas. After passing a written qualifying examination, Ph.D. students pursue independent research leading to Advancement to Candidacy and completion of a dissertation. M.S. and Ph.D. students work closely with faculty and pursue programs that fit their individual needs. Master's candidates can write a thesis in any of the research fields in the program, thereby developing laboratory and computational skills in areas such as electronics design, computer simulation and visualization, cryogenics, X-ray scattering, complex novel materials and devices, or materials science.

Physics students and faculty use a number of UCSC research facilities: Santa Cruz Institute for Particle Physics (SCIPP), University of California Observatories (headquartered at UCSC), Institute of Marine Sciences, and the Institute of Tectonics. There is strong interaction with other disciplines, especially astronomy and astrophysics, biology, chemistry, Earth sciences,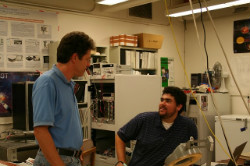 electrical engineering, and mathematics. Proximity to the Stanford Linear Accelerator Center and the Stanford Synchrotron Radiation Laboratory provides additional local research opportunities. UCSC faculty and graduate students are actively working at the Large Hadron Collider at CERN (ATLAS experiment), on GLAST, and conducting research at Los Alamos National Laboratory, Oak Ridge National Laboratory, NASA Ames, NREL, Lucent, Xerox, IBM, Bell Labs, and other national and international laboratories.